Welcome to JUST CLOSETS of Richmond Virginia
Recent Projects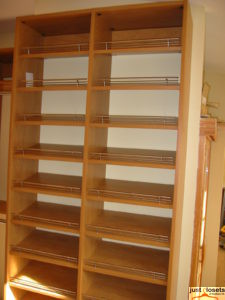 Quality Work and Craftsmanship
Just Closets is a family owned and operated business, offering home storage and organizational solutions to clients in the Richmond Virginia area. We are dedicated to 100% customer satisfaction no matter how large or small the job.
Customer Care
Our Philosophy is the simple old fashion way of doing business: "Treat each and every customer as we want to be treated." Taking each project and treating it as if it were being installed in our own home.
Design Experts
We will design and install your custom closet system in your home. No matter how large or small your space, our design experts can create the ultimate custom system for you!
Questions? Call now.
The closet systems you installed in our boys' room are wonderful. My husband and I now have closet envy...Katie M., Leesburg, VA,
You have doubled the space in all the closets and as you know with the size of our closets it was really needed. Karen V., Chantilly, VA,
I am amazed you were able to create such a useful design with the limited and difficult space you had to work with. I truly appreciate it. Thanks!Carolynn S., Purcellville, VA,
Contact our Closet Design Experts today for your Free Consultation.
Contact us